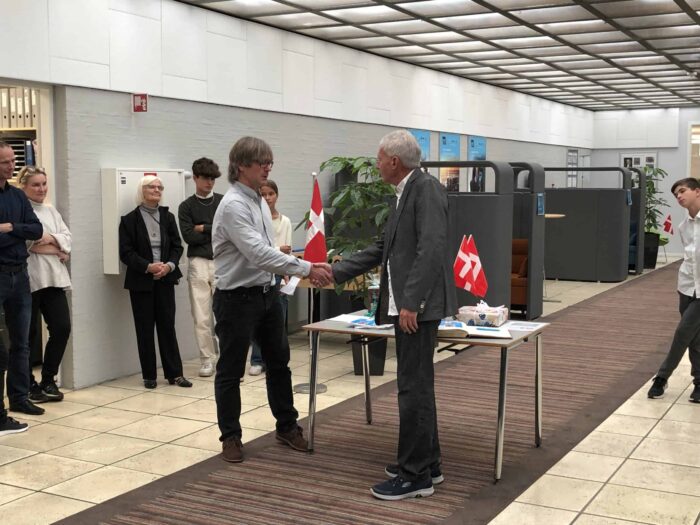 Today, we are celebrating and honoring two impressive achievements and contributions; Ronni's 25 years work anniversary and Bent receiving the Medal of Honor from Her Majesty the Queen! 
Bent Poulsen is receiving the Medal of Honor because he has worked more than 40 years at the company – actually, Bent has been in the company for 48 years.
Bent started in the company back in 1974 and has during the years worked in various departments such as the production, service and administration. Bent also had the responsibility of IT being our 'IT hero' helping us with various computer issues, and we are grateful for all his help!
Ronni started at ITW GSE back in 1997 shortly after graduating his Master of Science in Electrical Engineering. He has worked in our Research & Development department on a countless number of projects since then, and one of the latest projects was the brand new towbar on the 7400 eGPU.
In the office, Ronni is well-known for his big engagement in running during our exercise break, which is a daily 'must-do' in Ronni's calendar. In average, Ronni runs 40 km per week, and when multiplying that with the 46 Danish work weeks over the past 14 years of our exercise culture, then we see that Ronni has run 25,000km during work hours! That is quite impressive as Ronni also is carrying out his work in a very structured manner. Well done!
See some photos from the celebration below.