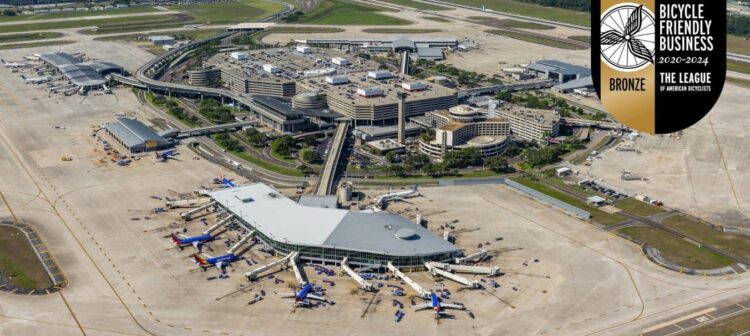 Riding your bike to the airport?
Well, that is now possible in Tampa International Airport, Florida, USA!
The airport has an ambitious focus on managing and reducing its CO2 emissions, and its newest act in becoming even more environment friendly is its new bike and pedestrian path along with as well as new covered bike parking and repair stations.
Talking about the new act, Airport CEO Joe Lopano states: "We're big believers in transportation options that offer an alternative to cars and improve connectivity, reduce transportation costs and promote wellness and sustainability. Cycling can achieve all of those goals – and that's why it is so important to support it for the 10,000 people who work at the airport as well as travelers."
You can read the full story about the bike-friendly airport here.
Back in 2017, Tampa Int. Airport joined the ACA program and became one of 221 airports around the world, affirming their commitment to their sustainable goals and applying best practices in carbon management.
The Airport Carbon Accreditation (ACA) Program
The ACA Program was launched in June 2009 as a tool for the ACI EUROPE member airports to become carbon neutral. Later, airports from all continents have been included in the ACA Program and at the time of writing, the program counts 295 airports.
The program works with 4 levels of certification, which is the program's framework and tool for active carbon management. The certificate is site specific, and can be used in the daily environment management as well as in the long term strategy, and it functions as a process for continual improvement and partnership with airport stakeholders.
The 4 levels of certificate:
Mapping – Footprint measurement: Determine emissions sources within the operational boundary of the airport company.
Reduction – Carbon management towards a reduced carbon footprint: Level 1 + Provide evidence of effective carbon management procedures.
Optimisation – Third party engagement in carbon footprint reduction: Level 1+2 + Widen the scope of carbon footprint to include third party emissions.
Neutrality – Carbon neutrality for direct emissions by offsetting: Level 1+2+3 + Offset remaining emissions to achieve carbon neutral operations for all emissions over which the airport has control.
Learn more about the ACA Program and see the different member airports' level of certification here.