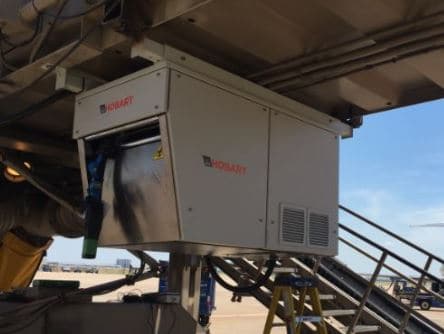 If any of your recent travel expeditions have included a pit-stop (or check-in) at Los Angeles International Airport, you may have noticed some back-up in the terminals and on the tarmac. In fact, the congestion is almost expected at LAX these days. However, despite the traffic frustrations, it is all for good measure – especially for one of ITW GSE's clients, United Airlines. Undergoing a complete terminal reconstruction, United plans to luxuriously refurbish their hub at LAX. Every facet of the new terminal will boast beautiful aesthetics, even down to the power equipment.
Lining the passenger boarding bridges, Hobart 2400 Power Coils will act as the new technology for powering United aircraft. In an article titled "Los Angeles Int'l & United Boost Gate Capacity & Technology in Terminal 7" from airportimprovement.com Dan Vnuk says that upgrading efficiency is one of the most important aspects of the revamp. "To meet the power needs of various aircraft using the boarding bridges, project designers specified an innovative power coil from ITW GSE that is able to supply all aircraft types," he comments.
Not only are the Power Coils envisioned to enhance the modernity of the hub, but they are also expected to reduce overall maintenance costs. "The space-saving Hobart Power Coil weighs up to 40% less compared to traditional systems that have a separate ground power unit (GPU) and a separate coil," Vnuk explains. With an innovative design, the power coil eliminates clutter and offers less mechanical stress.
The Hobart 2400 Power Coil features quick installation qualities, making the process easy and time/money saving. According to Doron Milbaum, regional sales manager for ITW GSE Americas, most traditional 400-HZ power units on boarding bridges include multiple separate systems/parts from various manufactures. However, the Power Coil combines all the parts into one state-of-the-art-unit. Moreover, the patented Plug and Play system allows the coils to connect directly to the aircraft for optimal voltage quality.
Known as the aesthetic power solution, it is only sensible that the Hobart 2400 Power Coil is being used to help construct a deluxe and polished looking terminal for United Airlines.