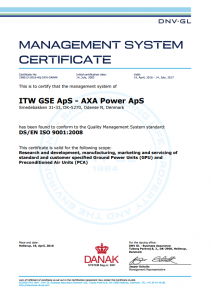 Last week, we had the visit of DNV GL, our new certification partner who did a revision of our current Quality Management System the ISO 9001:2008 edition.
At the end of the day, the certification inspector concluded that we live up to all requirements of the standard and even a bit more. Further, the inspector spoke highly of our steady and dedicated work ensuring that we live up to every letter of the standard.
During the inspector's visit, we also wanted to discuss whether it would be possible to join those 15% of DNV's customers who are already certified according to the new ISO 9001:2015 standard. Actually, it turned out that we only miss a few things to be ready to switch to the new standard.
Bent Poulsen, Head of Quality Assurance at ITW GSE AXA Power, claims that we will work on those matters during May and June and that we expect to be ready for a certification according to ISO 9001:2015 before our summer holidays.
Congratulations to the whole team for the good and persistant work!