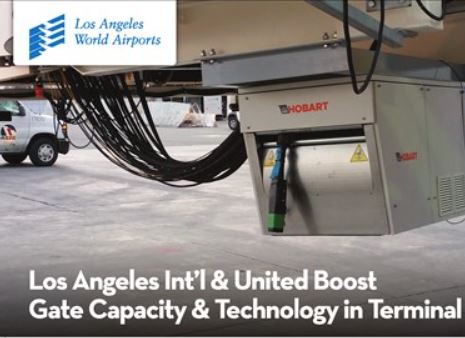 Amid billions of dollars in passenger oriented enhancements occurring inside Los Angeles International Airport (LAX), substantial improvements are also occurring for airlines out on the ramp – especially Terminal 7, which is used exclusively by United Airlines.
Part of this renovation includes the passenger boarding bridges. In order to meet the power needs of various aircraft using the boarding bridges, project designers specified the innovative Power Coil from ITW GSE that is able to supply all aircraft types. The Hobart 2400 Power Coil consists of a 90 kVA solid-state converter and a cable drum in one enclosure. Because the unit is completely encased, it is less susceptible to destructive elements such as sunlight and harsh weather thereby reducing overall maintenance costs. The space saving Hobart Power Coil weighs up to 40% less compared to traditional systems that have a separate ground power unit (GPU) and a separate coil.
To read the full article, click here.