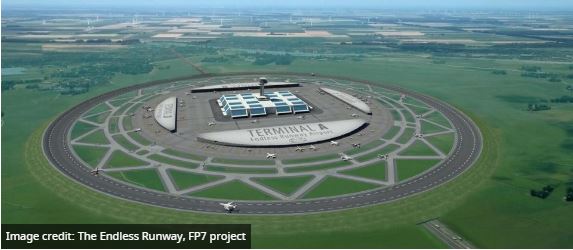 Circular runways have been an idea that has resurfaced over and over again for a century. It is an innovation targeted at improving the efficiency of airport operations. Most recently, a Dutch researcher, Henk Hesselink, has revisited the idea with his "Endless Runway" project.
"According to the Dutch researcher, who has studied the problem for years, it would revolutionize air travel – and make it more efficient," Katharine Schwab says in her article "Why Airport Runways Should Actually Be Circular." While terminals themselves have evolved over the years, the take-off zone has remained unchanged. Hesselink is proposing an advanced and energy efficient method to solve that problem with his circular runway design. These concepts would completely alter the runway layout and revamp how airports run, Schwab says.
Beginning in 2012, Hesselink and his team at the National Aerospace Laboratory (NLR) in the Netherlands began the "Endless Runway" project in the hopes of allowing aircraft to depart in the most advantageous and advanced mode possible, especially in cases of threatening crosswinds. "When crosswinds are light, they have no impact taking off or landing, but when they're too strong, runways facing perpendicular to the crosswinds have to be shut down entirely – which can seriously impact not just one airport, but the entire network," Schwab explains.
Because crosswinds can often grind airport procedures to a halt, the circular runways will help activity become more reliable and dependable. According to Schwab, these runways will have a diameter of 2.2 miles and a circumference of about 6.2 miles – which is like the length of three standard runways but delivers the capacity of four – and will be able to accommodate two planes landing simultaneously even when there are bad crosswinds. Furthermore, the design is slightly banked, which will reduce centrifugal forces and keep the plane on the ground while it gains speed. "And since landing airplanes wouldn't have to fight strong crosswinds, airlines would save on fuel, too," Schwab construes.
Despite all of its apparent advantages, there are controversies argued about circular runways. Some question the ability to keep the traffic under control, while others argue the burden of having to teach pilots new landing techniques. Also, commercial jets are only designed to take on minimal side loads when landing, Kate O'Conner from Plane and Pilot Magazine says. "Yet if nothing else, exploring the idea of circular runways might get some aviation types to think about flying differently," she proposes. "To ponder it, if you will, in a non-linear way, though they run the risk of going in circles in the process."