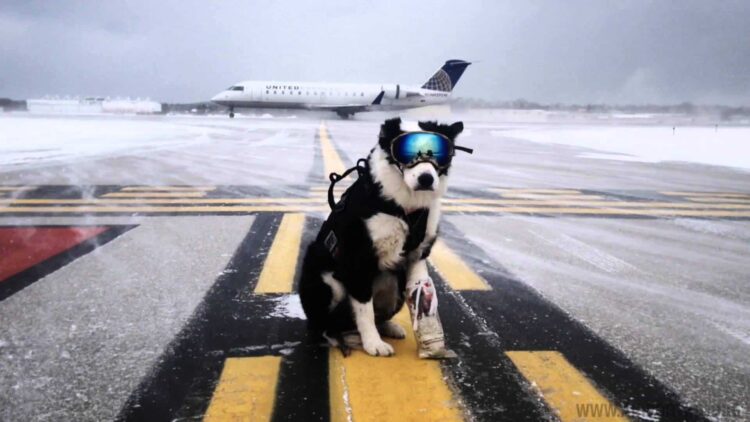 Meet Piper, a 7-year-old black and white spotted border collie with an awesome pair of googles and a brave heart. As the K-9 wildlife manager, Piper's job is to chase away birds from the runway and taxi lanes at Cherry Capital Airport in Traverse City, Michigan.
Piper works long hours, from 4 a.m. to 2:30 p.m. every day alongside his best friend and owner, Brian Edwards who works as the airport operations supervisor. Piper's duties include clearing deer, fox and other wildlife from the runways as well as scouring the airport fence lines for ground hog holes. During his job, he sports a rad pair of reflective goggles to protect his eyes from harsh lights.
The job begins when Edward's receives a call about wildlife intrusion from aircraft traffic control. The pair hop in the car and speed towards the fowl spotting.  To guide Piper's attention, Edwards points right towards the animals and he charges off. Edwards just says, 'You going to go get 'em bud?' Piper instantly goes into 'launch mode,' as he calls it," says the BuzzFeed article by Leticia Miranda about the duo.
When Piper isn't chasing after wildlife, Edwards helps Piper with recall skills, off-leash control and becoming accustomed to aircraft noise. The phrase "you can't teach old dogs new tricks," is completely false when it comes to Piper. The border collie learns new things every day! Edwards is currently teaching Piper to become adapted to helicopters so that he can aid in emergency situations.
At Cherry Capital Airport, traditional tactics, like removing food and water sources, are continued to be used to rid the runways of wildlife. However, the animals eventually become accustomed regardless. Adding Piper to the mix always offers a predator like dimension that keeps the animals away. Despite the long and early hours, Edwards wouldn't trade his job for anything. "Though it ends up costing me money, nothing can make up for working with your best friend every day."
"