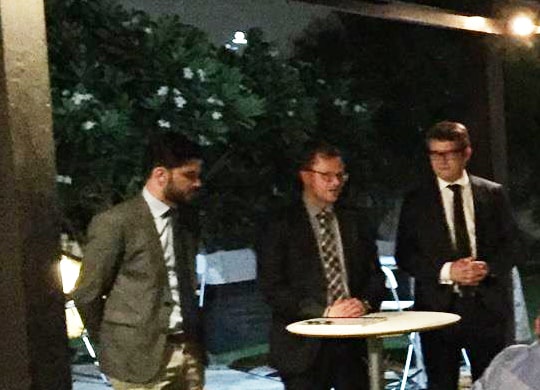 Danish Aviation Delegation visit in the United Arab Emirates
We are pleased to announce that ITW GSE AXA Power has signed a prestigious contract during the Danish Aviation delegation visit in United Arab Emirates from 30th October to 1st November 2016 headed by the Danish Minister for Business and Growth Mr. Troels Lund Poulsen.
The contract was signed and witnessed by the Minister for Business and Growth on Monday 31st at the Danish Consul General's residence during a dinner event. It includes 52 pcs of 400 Hz Ground Power Units (GPU) and related equipment to be installed under the Passenger Boarding Bridges in Dubai Airport, Concourse 1. The installation will take place during 2. quarter of 2017 and the GPUs will mainly be used to deliver electrical power to aircraft from Emirates Airline while those are on ground and their onboard electrical supply is switched off due to environmental concerns.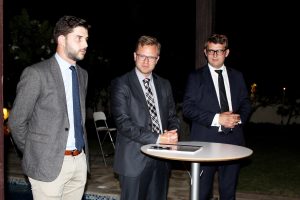 The prestigious contract supports ITW GSE AXA Power's position as the leading supplier of critical connections to aircraft and brings the total number of installed systems in UAE above 500 pieces – 300 of which are either at the gates or in Emirates Airline's hangar facilities in Dubai Airport. With this contract AXA Power strengthens it's opportunities of being considered as a supplier in relation to the numerous projects that are scheduled in connection with the massive growth of the Al Maktoum International Airport in the years to come.
Recently, ITW GSE AXA Power was awarded the contract to deliver both 400 Hz GPUs and Pre-conditioned Air equipment to the new "Istanbul Great Airport", the largest single contract in the history of the company. Hence, 2017 looks to be another strong year for the manufacturing plant in Odense, says Poul Elvstrøm.
All in all, we can conclude that the visit was very fruitful as it allowed the delegation to meet with key stakeholders involved in the massive airport projects in the region. The delegation was honoured to give multiple presentations including one in front of Ms. Suzanne Al Anani, CEO DAEP in Dubai.
A special thank to David Feuga, Regional Manager and Gowthaman Thiagarajan, Project Manager at our branch office in Dubai who did a great job in securing the prestigious contract for AXA Power!