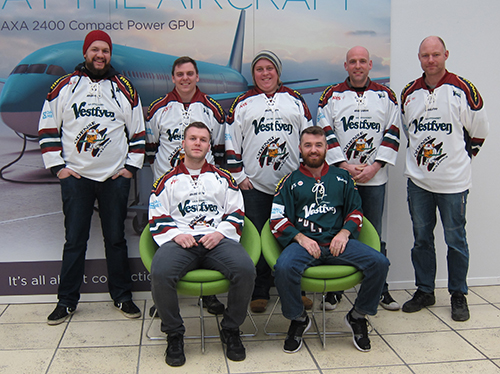 Product training course
A product training course at ITW GSE AXA Power facilities enables endusers of our products achieving a better understanding of how those products are designed – and learning what to do, if they should break down. It is a golden opportunity to go more into depth with different subjects and to simulate various incidents under the supervision of our experienced staff.  But it can also inspire the participants to do some exercise…
6 technicians from London Heathrow Airport took up this challenge during week 2. Chris Ringvig (AXA Power) taught our guests all about the product theory but also organized hands-on training in our test facilities. Chris further invited the guests to play football with the AXA football team during exercise hours on the first day which they really did enjoy. There is nothing like sports to link people together and make working environment much easier in the future. Whether the HAL team or the AXA team won the match, the story does not tell.
Anyhow, the HAL team was not tired of sports . they joined up with Chris at the local ice stadium watching Odense Bulldogs play. A great experience for the team that watched their first live ice hockey match and enjoyed the good ambiance as well – and maybe a beer or two ? The match was very tense. At a certain time, Bulldogs' 2-0 lead was almost lost, but a real man fight brought them back on track and they ended winning the game 3-2. Afterwards, the HAL guests all wanted their own jersey" – and Bulldogs can claim having a handful of English supporters.
Thank you to Tobias Jones, Richard Elderfield, Matt Goodall, Kevin Bianchi, James Hill, Elvis Bouchereau for a good and inspiring visit at our product training course. We now look forward to welcoming the two next groups from HAL for training. At least they know what the expectations are.
"