New Doha International airport has decided to Go Green On Ground
with AXA Power PCA and 400 Hz.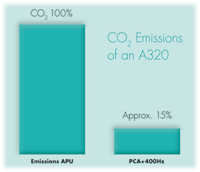 The Go Green on Ground concept – i.e. replacing the onboard auiliary power units with an external 400 Hz ground power unit and a Pre-conditioned Air Unit – helps airports save 85% on CO2 emissions. It also means financial benefits in the order of EUR 100,000 per year per narrow-body gate.
Read Jane's editor Ben Vogel's article
in the June issue of Jane's Airport Review.