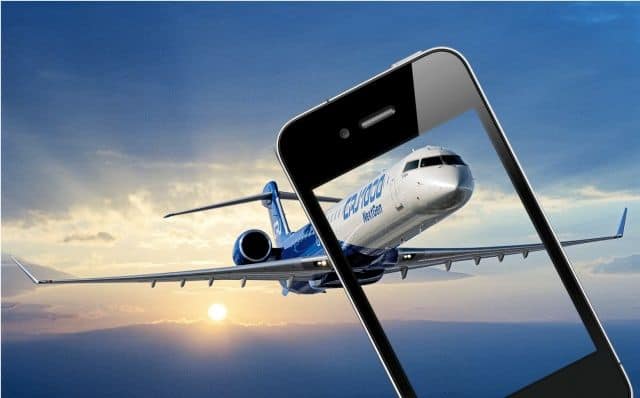 Time to present the 10 Must Have Apps for Aviation lovers. In the age of remarkable technology and hand held devices, anything made out of paper and pamphlets are considered almost archaic. Google Maps and Waze are now mainstream devices. However, portable gadgets have not only monopolized ground transportation but have also infiltrated the aviation division of travel. Rerouting to avoid traffic and weather conditions isn't only for paved roads, airplanes use time saving techniques too.
Check out Chris Oquist's list from the blog Aviation Chatter for pilot's top 10 must have apps for flying.
Logten Pro Pilot Logbook is a lightning fast flight logging app. It allows for detailed analysis of flight times and specific aspects of past, present and future moments of the travel. You can track anything about your flying, from how much tailwheel time you have to when the last time Joe Smith was the relief pilot on your Dubai trip," Oquist explains. For commercial pilots, the app can track duty and request requirements for FAR 117 or EU ops during a trip.
FAA Airplane Flying Handbook presents all of the knowledge crucial for any type of aviation situation. It is the aviation version of the driver training booklet available at DMV's for permit tests. All of the rules and regulations can be found in this app as well as procedures for emergencies. It is a must have for all pilots.
Aeroweather Pro: "Simple, easy to view, and only provides you with necessary information," Oquist says. The app presents current and precise worldwide airport weather forecasts and predictions and is often used by pilots for flight preparation. Visibility is a valuable attribute with this app.
WnB Pro is considered the weight and balance app for flyers and is compatible for nearly any general aviation aircraft. It is useful for students, specialists and enthusiasts. "It will warn you if the weights (fuel, passengers, baggage) you input place your aircraft outside its center of gravity envelope," Oquist comments. It is a great safety tool to always have on your belt.
FBO Fuel Prices will lead you to the cheapest, highest quality, or closest gas station you desire. This app gives updates on gas prices across the U.S. and can be used in-flight or on airplane mode. It also calculates any ramp fees so pilots can know what to expect when they land to fill the tank.
Airports is the ultimate guide and directory for airports across America. This app will record notes and information on frequented airports. It includes VOLMET station lists, NOTAMs decoders and TAF reports.
Social Flight is an interactive map that provides pilots with thousands of aviation events, like fly-ins, air shows and your local pancake breakfast! With this app, pilots can search and add events, chat, upload photos, email notifications, send event notices to friends and add events automatically to mobile calendars. Basically, it is Facebook for flyers.
CloudAhoy is a great flight debriefing app. "It lets you record every flight you make using your iPad's internal GPS receiver," Oquist says. "You can then retrieve captured data on the server to view at home." During the flight, this app collects data using GPS signals and then upon landing the service relays all of the compiled information, which includes flight tracks, profiles, maneuver analysis, instrument approaches and more!
Flight Plan is an app for those interested in learning math orientated information about their flight. "It simplifies many common calculations typically performed with an E6B flight calculator," Oquist explains. "It also includes a conversion calculator and weights and balance calculators."
Air Navigation Pro plans flights and presents real-time aircraft navigation application with a 2D moving map and 3D synthetic vision. It comes fully loaded with a database of more than 180,000 worldwide aviation waypoints and an airspace database for more than 100 countries. "Air Navigation Pro helps pilots plan their flight to get to their destination easily and quickly, emulating the instruments found in the cockpit," Oquist relays.
Ditch cumbersome and complicated paper manuals and charts and adopt the hottest electronic versions to plan your next routes, access emergency checklists, view weather conditions, assist in navigation and connect with other pilots. It is time to fly into the age of digital and we hope this list of 10 Must Have Apps helps you to get kickstarted!