Presentation of AXA Power PCA for customers, distributors and consultants
October 2010
On 5. – 6. October, AXA Power organised a PCA seminar for customers, distributors and consultants. The objective of the seminar was to present and to familiarize the audience with the new AXA Power PCA. We had two fantastic days.. and there are no better words to describe the new product than those expressed by some of our visitors:
Javier Sibils, Consultant, SI aero s.l., Spain
"The AXA Power PCA is not just a new product ! It is completely different from other PCA units on the market. This unit is "breaking the rules" and it certainly is going to set the trend for future PCA. I find especially the modular conception as well as the VDF control extraordinary. Besides, all other manufacturers are building PCA units almost from scratch – your production set-up is so well organised thus allowing you to make series production. Since the delivery time is normally a big issue, I think that you also have an advantage at this point ! "
Ian Smith, Airfield Systems & Electrical Technical Leader – Heathrow Airport, United Kingdom
"Fantastic design !". The modular design of the AXA PCA will make the other PCA manufactures consider their PCA designs. For Heathrow Airport, the maintenance issue is of high importance as we are measured on the performance of our equipment and facilities. We face financial penalties if we do not achieve the required performance figures that have been set out by our regulator the CAA (Civil Aviation Authority). The modular design of the AXA PCA would assist our maintenance teams in maintaining our assets and reduce the downtime of the PCA systems. This is also a feature of your 400 Hz Ground Power Units as they are also modular in their design."
Fokko Edens, Senior Consultant, Deerns Consulting Engineers, The Netherlands
"I am impressed. Right now I can't even think of anything that can be improved which is quite unusual. The design is very appealing and the modularity eases the maintenance. You have done a great achievement starting from scratch and your newly established climate chamber shows that you are a serious player. Also, I'm impressed by the high performance in high temperature climate which is normally always difficult for point-of-use systems. I think AXA will be a serious and useful competitor in the PCA market"
Niels Henrik Harbo, Section Manager and Senior Specialist Cooling & Process Engineering Industry, Cowi A/S, Denmark
"The AXA PCA seems to be a product of very high quality, and you also seem to manage your internal quality control very well. The climate chamber demonstrates your determination to document performance for any conditions requested. The modular concept is a huge advantage for many applications, and the use of VFDs (Variable Frequency Drives) will make the product superior to other PCAs. Also the modular concept allows you to implement hybrid solutions with chilled water coils at a later stage".

Benoit Casabo, PCA Responsible at Air France, France
"The product is very innovative. And you have integrated many simple but obvious solutions such as the sensor at the cabin probe. I also like the modular conception and the idea of easy maintenance. And I'm impressed by the quality throughout the prodution. Futher, your climate chamber convinces me that you are prepared to go all the way".
Karsten Rahbæk Jørgensen, Project Manager, CPH Airport, DK
"I fancy the easy operation combined with the modular construction."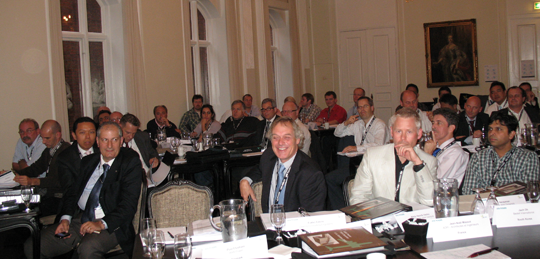 Photo of Tuesday Afternoon Session at First Grand Hotel, Odense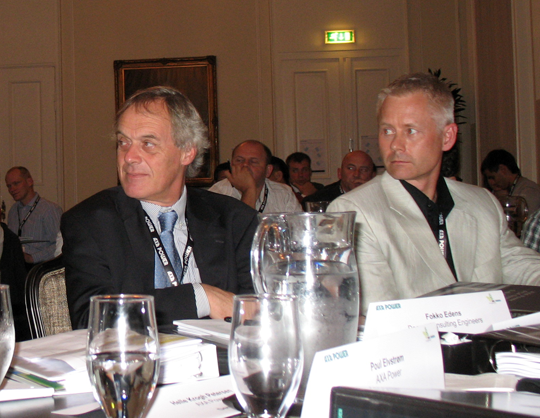 Photo of Fokko Edens and Niels Henrik Harbo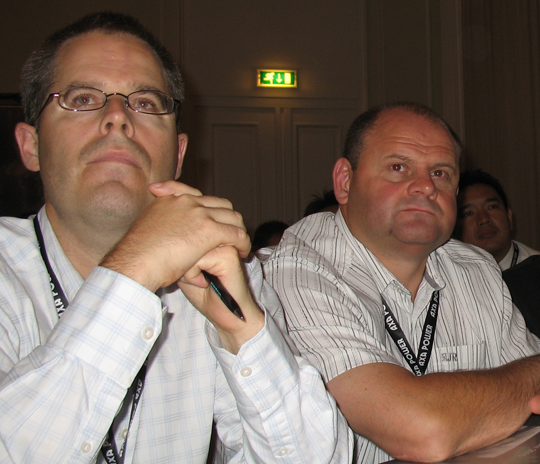 Photo of Blair Jennings and Ian Smith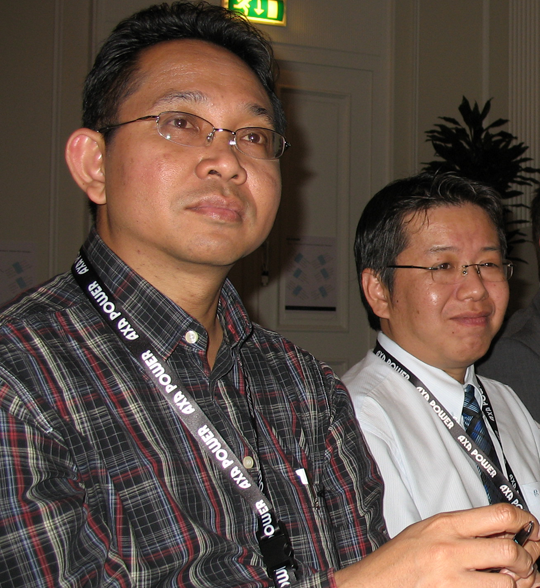 Photo of Col. Arkhom and Pairoj Sophonsriwong