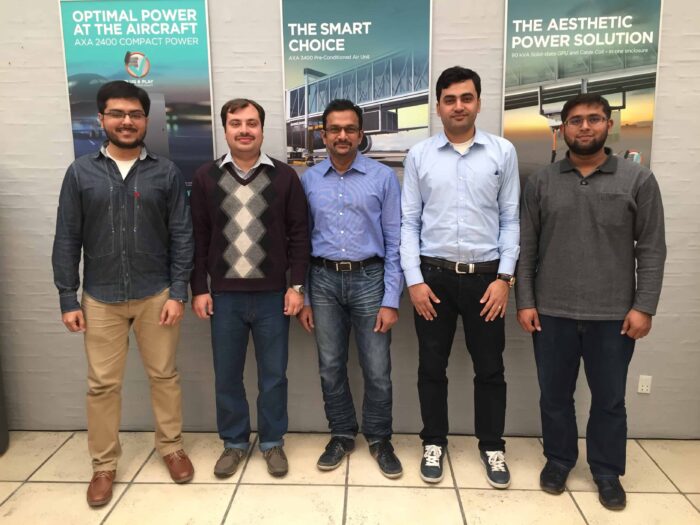 This week brought the visit from the CAA of Pakistan (HQ, Karachi Airport, Peshawar Airport) as well as The Imperial Electric Co. Altogether 4 persons were trained in the use, maintenance and repair of the AXA product lines from the AXA 2200 to the AXA 2400 series. Although all 4 came with certain experience of using the AXA equipment, they told over lunch on the Thursday, that they had learned a lot – among others thanks to JK (Service & Commissioning Engineer Jeyalingam Kathigamathambi). The group expressed great satisfaction with the professionalism and the friendliness at the AXA premises. They immediately felt welcome! With regard to product advantages, they pointed out the Plug & Play feature and the user-friendly software (compared to equivalent equipment from other brands).
With the formal training of four engineers, AXA products can now be looked after much better, thru in-country support available. Should they, however, need further assistance, they are happy to know that they can always get help from the back-up service provided. Help is no longer than a phone call or an e-mail away. Also, they praised the instruction videos – a rather new feature that AXA puts at the disposal of its clients.
Another great thing about AXA was the daily exercise hours. Would be nice to have that at home as well.
What did surprise the visitors? The friendly attitude and smiling faces of people on the street and their ability to speak English. Also, the fact that the town is not as crowded as the cities in Pakistan. In second place, the deception that shops are closed after 5.30 pm. On the other hand – maybe not that bad.. at least it saved their money!
Thank you for visiting – and sharing your impressions with us. Great to meet you all.