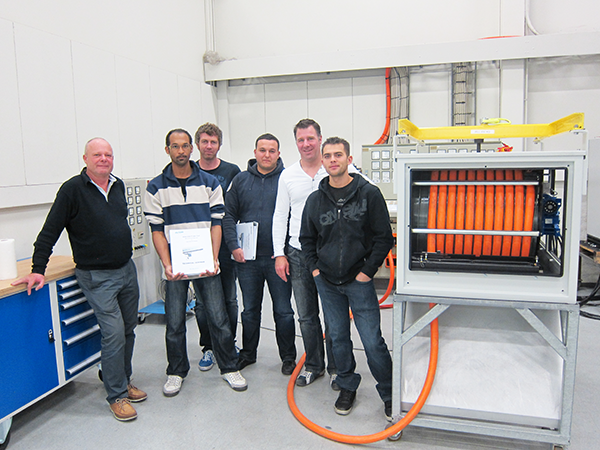 Dutch Installation and service provider Volker Infra recently visited ITW GSE AXA Power
ITW GSE AXA had the pleasure of a visit from Volker Infra. They came to get their knowledge about our ground power units up-to-date.
Schiphol Amsterdam Airport has invested in more than 100 GPUs from AXA Power. Hereof 82 pcs of the patented Power Coils, where a solid-state GPU and a cable retriever are built into one single unit. The usage of the AXA power units enable the airlines to limit the use of their APUs. This reduces the CO2 emissions as well as the noise level at the airport. Further, it helps the airlines save money with regard to maintenance of the APU and fuel consumption.
The company Volker Infra has a contract with Schiphol Airport according to which they have installed and maintained AXA Power units for several years already. They have gathered a broad knowledge and experience of our products. However, they wanted to get their knowledge updated and top-tuned and therefore, they attended a service course. We experienced that the technicians from Volker Infra were very talented. So we asked them to build their own Power Coil which they with success.
In future, Schiphol Airport, Statron (partner of ITW GSE AXA Power) and ITW GSE AXA Power can all feel very safe putting service jobs in the hands of Volker Infra – they are indeed very capable.