AXA Power
A legacy brand of ITW GSE.
History of the AXA Power brand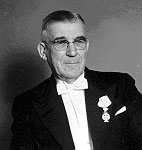 ITW GSE ApS, formerly AXA Power Aps was founded in 1924 by Mr. Axel Åkerman.
In 1949, at the occasion of the company's first jubilee, an employee wrote: "The company Axel Åkerman and the person Axel Åkerman are so close that the company's history is identical to that of the person Axel Åkerman". This is valid until 1970 where Mr. Åkerman dies which puts a natural end to his daily visits in the company. Actually, Axel Åkerman did continue to play a role for another 30 years where the company merged with AXA Power and took on that name.
About Axel Åkerman
Axel Åkerman was born in 1896. His parents came from Sweden/Norway but moved to Denmark shortly after Axel's birth. In 1910, Axel started as his career by company Thomas B. Thrige, a very well esteemed Danish company, where he stayed till 1915. After a couple of years that he used to complete his education within the field of electro-techniques – among other in Norway, he established a small work shop in Odense in 1924. He started doing repair of electric systems for cars but during the following decade the company grew and took on the production of transformers and rectifiers, products that became the core business of Axel Åkerman until the late 80ies.
In 1953, the local airport manager who happened to be the friend of the Åkerman family, asked Axel to manufacture a small 28 VDC rectifier for the start up of small aircraft – and so he did. This was the start of the current core business of AXA Power – actually, the unit worked without any problems till 1995, where we simply suggested the airport to exchange the unit with a modern 28 VDC unit out of marketing reasons…
From 1953 and onwards, the company manufactured many 28 VDC units that were primarily sold in Scandinavia and the Netherlands. As the years went by, customers started asking for 400 Hz unit to supply larger aircraft and therefore, in 1985, Mr. Kjell Åkerman, third generation, and his staff decided to develop such a unit. At the same time, they made a promise to themselves: always to be at the forefront of the development.
This philosophy proved to be right – or in other words, the 400 Hz unit from AXA became such a success that a new company, namely AXA Power, was created. During the first years, AXA Power manufactured around 100 ground power units in total per year – but the ratio has changed quite dramatically over the past couple of years. Today, the company manufactures approx. 8-900 units per year and is considered the world's major manufacturer of 400 Hz units.
In year 2000, AXA Power was acquired by the industrial group Illinois Tool Works, ITW, with head office in Chicago.
In 2013, AXA Power changed its name to ITW GSE ApS to reflect the relations to ITW - Illinois Tool Works.
Video of legacy brand
AXA Power video
Please enjoy this video introducing AXA Power as a company and the AXA Power products.
Product support
The boxes below will guide you to information about our products