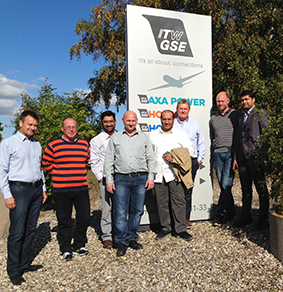 Presidential B787 aircraft
The Presidential Flight has been a loyal customer since 2003. In 2014, we started a replacement program in the old facility accommodating the Presidential B787 aircraft. The two 90 kW AXA2400 GPUs supplied at that occassion, have performed very well with the B787 which is one of the aircraft requiring PF1. Therefore, the Presidential Flight also wanted AXA units for the new hangar.
The AXA 2400 Compact GPU provides valuable features among other the unique voltage quality and  400% overload at output as a standard. Therefore, it matches all types of aircraft even those requiring Power Factor 1 like the B787/A350/A380.. Further, the AXA 2400 is equipped with the smart ITW GSE user interface and it enables software update via USB.
We are pleased to announce that we have successfully performed the Factory Acceptance Test of 10 fixed 90kW AXA 2400 GPUs for a new Presidential Flight hangar project under construction in Abu Dhabi also regarding the B787 aircraft.
Present at the FAT were:
Mr. M Abdulla Hamad Abdullatif, Facilities Director, Presidential Flight
Mr. A Maqbool,  Mechanical Engineer, Presidential Flight
Mr. P Brennan, Construction Manager, Amana Contracting & Steel Bldg.
Mr. V Krishnakumar, Project engineer, Cavotec Middle East