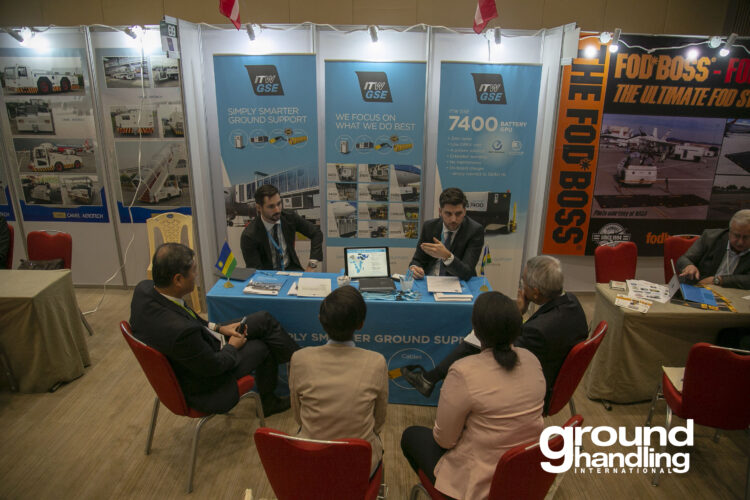 On Sept 11-13, Sales Director David Feuga and Area Sales Manager Denis Mesple-Somps from our Dubai office attended the Ground Handling International Stakeholders Conference in Kigali that included the presence of 107 delegates.
According to David and Denis, the African aviation stakeholders showed major interest in the ITW GSE 7400 eGPU as the battery GPU allows African ground handling companies and airlines to save costs on operations (spares, maintenance and fuel). Further, it matches the new airline regulations!
During the conference, ITW GSE participated in a debate with SWISSPORT and AVIACO. Theme for the discussions was  "How to develop a GSE strategy to meet the challenges of the African ramp".
From the discussions, it is our understanding that African ground handling companies have been suffering from aged GSE/GPU equipment that tends to be rejected by modern aircraft' and by the service expectations of international airlines. Besides, the lack of after sales service, spare parts availability and technical competences adds to the daily challenges of ground handlers and airlines on the African ramps.  To this comes that the Aviation industry in Africa keeps growing with an annual passenger traffic growth of 6.5% (Source: IATA). Boeing estimates that the number of new aircraft will increase by 1,200 units in Africa during the next twenty years. With the upcoming liberalization of the air traffic and the single African Air Traffic Market, an increase of 192M extra passengers by 2035 is expected.
ITW GSE believes in a sustainable growth of the aviation and subsequently the ground handling industry in Africa which is well inline with our clean, reliable and cost-efficient range of GSE equipment like the 7400 GPU among others. The ITW GSE 7400 eGPU is a merge of expertise and a revolution in the GSE market: it combines the proven and patented technology of the ITW GSE 400 Hz converter (GPU) with the proven NISSAN Battery Leaf Pack from the automotive industry.  Being independent, the eGPU can be put into immediate operation as it does not require any changes of the current infrastructure.  ITW GSE looks forward to being a part of a sustainable growth of the aviation in Africa.
It's all about connections