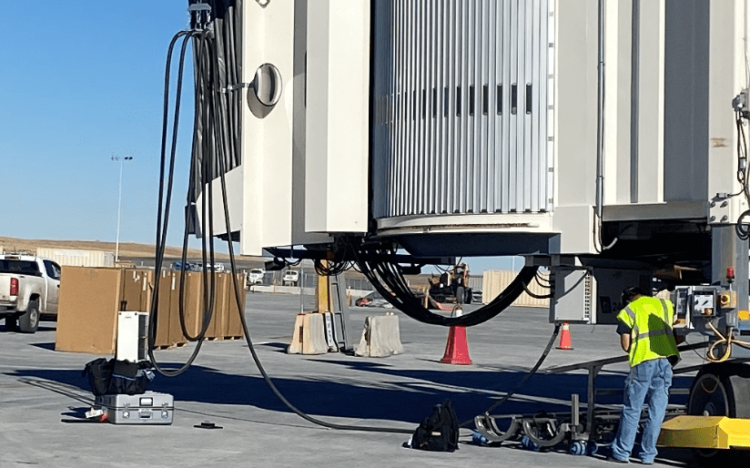 The tension in the sockets of a GPU cable head are critical to the safety of the operators, equipment, and aircraft.
Cables should be checked on a regular maintenance schedule for wear and to ensure the tension in the sockets meet the specifications outlined in the SAE document AIR4365A.  Outlined in this document are the specifications for the aircraft receptacle, cable assemblies, and plugs.
Loose cable contacts or worn aircraft phase pins can cause "hot plug" issues that can result on loss of the E & F control voltage leading to the aircraft rejecting the external power.
Guide lines
The cable head sockets should have enough tension to hold the cable in place and support the weight of the cable held off the ground. Guidance for the acceptable tension is in Military Standard MIL-C-7974 that specifies an insertion force of 80 lbs. +/- 20 lbs. and a maximum extraction force of 100 lbs.
It's recommended that each phase socket (A-D) be tested with a pin gauge tool and a tension meter. These phases should test between 15 lbs. to 25 lbs. each to be considered serviceable. The E & F control sockets will have a much lower tension requirement with a minimum of 3 lbs.  Any cable that does not meet the minimum tension should be replaced.
The issue of using 'springs'
Manufacturers use different methods to keep tension in their cable sockets. The most common being a C shaped spring that wraps around the exterior of the socket. With this design there is a possibility that the spring "travels" over time and use towards the bottom of the socket and does not provide the original tension.
Proprietary alloy
ITW GSE sockets are made from a proprietary alloy that retains its tension properties without the use of springs. This design is proven in commercial and military applications to have a long life without losing its retention characteristics. On a new plug or contact section installation, we recommend inserting the testing tool and exercising the sockets for a few minutes before putting them into service.
See the ITW GSE Aircraft Cables here.
Overall, cables can have a long life with the proper maintenance checks. You can learn more by contacting your ITW GSE sales manager or request a free training event for your facility.