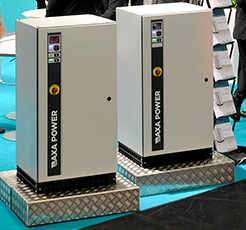 AXA 2400 Compact Power
As usual, our Russian Distributor, AEGE Ltd. takes pride in being the first to buy a new AXA Power product. Therefore, they have placed the first order for an AXA 2400 Compact Power unit. The unit is scheduled to leave the factory at the beginning of Januar 2014.
The AXA 2400 Compact Power was launched at the Inter Airport Exhibition in October of this year where the visitors did fancy the standard overload capability  as well as the Plug & Play feature that ensures the optimum voltage quality at the plug.
It's all about connections